What is MBR, Membrane Bioreactor?
The Membrane Bioreactor (MBR) is a combination of membrane separation and biological technology. Water can enter small pores and activated sludge trapped in the tank, so this can greatly increase the system's ability to degrade pollutants. cod bod can be very bad and suspended solids, bacterial virus (99.9%), etc. can be removed. Thus MBR ensures a stable excellent water quality that can be reused for non-drinking purposes, such as car washing, gardening, flushing, cleaning, watering. , irrigation, etc.
Membrane Bioreactor (MBR) Process
The membrane bioreactor process consists of a suspended growth biological reactor combined with ultrafilter membrane modules. during this process, the ultrafilter membrane directly separates solids from mixed liquid in biological reactors. This method can eliminate the secondary clarifier and stop any biological solids loss within the affluent and permit a really high concentration of biomass. Membrane bioreactor(MBR) features permanently hydrophilic, excellent anti-oxidation, high Intensive strength(≥200N), and high anti-peeling strength. It provides large flux and fine filter precision.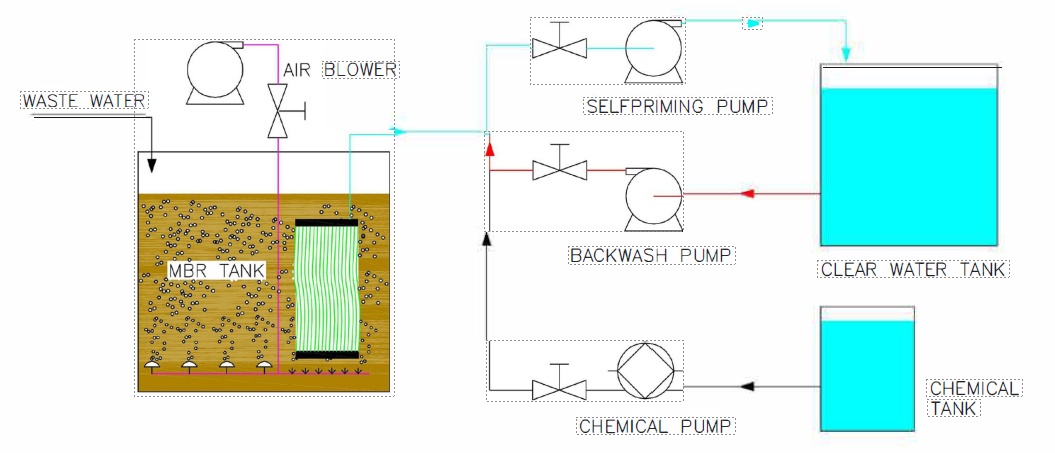 A membrane bioreactor(MBR) is essentially just a plug-flow reactor that contains an extra cylinder of some porous material within it, quite a bit like the tube within the shell of a shell-and-tube device. it's excellent and stable permeate quality and has a long lifespan of 5-8 years. it's a large installed filling area but with a small footprint.
MBR Specification:
Module Data
MBR-10
MBR-20
MBR-30
Nominal Area(m2)
10
20
30
Recommend Flow(m3/d)
3.0~4.5
5.0~7.5
7.5~11
Dimensions(mm)
1000*535*40 800*630*42
1800*535*40 1500*630*42
2000*630*42
Membrane Material
Reinforced –PVDF
Pore size(μm)
0.1μm or 0.04μm
Fiber Diameter
2.2/1.0mm or 2.6/1.2mm
Breaking Strength
> 200N
Flow Path
Outside-in
TMP Range
-0.05 to 0.05Mpa
Operating Temperature
5-40℃
Operating PH Range
2.0-10.0
Backwash Flux
30-60L/m2.h
Permeate Turbidity
≦0.5 NTU
NOTE: MBR -5,MBR-12,MBR-25,MBR-35 and customized model are available.
Advantages of MBR, Membrane Bioreactor:
1. Permanently hydrophilic modification, excellent Anti-oxidation.
2. High Intensive strength(≥200N), High Anti-peeling strength, no broken and peeling during normal operation, can withstand high frequent backwash.
3.Large Flux,pure water flux up to 1000L/m2.h, design flux 10-25L/m2.h
4. Fine filter precision, pore size@0.04um(B) or 0.1um(A), remove most bacteria, virus, microbe, particles, colloid, macromolecules organism, etc.
5.Excellent&stable permeate quality, turbidity close to Zero
6. Long lifespan (3-7years), stable quality.
7. Large installed filling area, small footprint.
MBR (Membrane Bioreactor) Design
The membrane bioreactor design in MBR system wastewater treatment syndicates a step of biological treatment mostly activated sludge through a membrane step which is ultrafiltration of low or ultrafiltration. Membrane bioreactor is formulated for meeting the stress of municipal and industrial sewage treatment. the most aim of this wastewater treatment is to get rid of pollutants from water. Hydro Blue membrane bioreactor adopts a replacement generation of PVDF hollow fiber membrane in membrane bioreactor design with the high pollution resistance, enables high mechanical strength, higher flux. The membrane design features of compact structure, large fill density, and is straightforward to put in.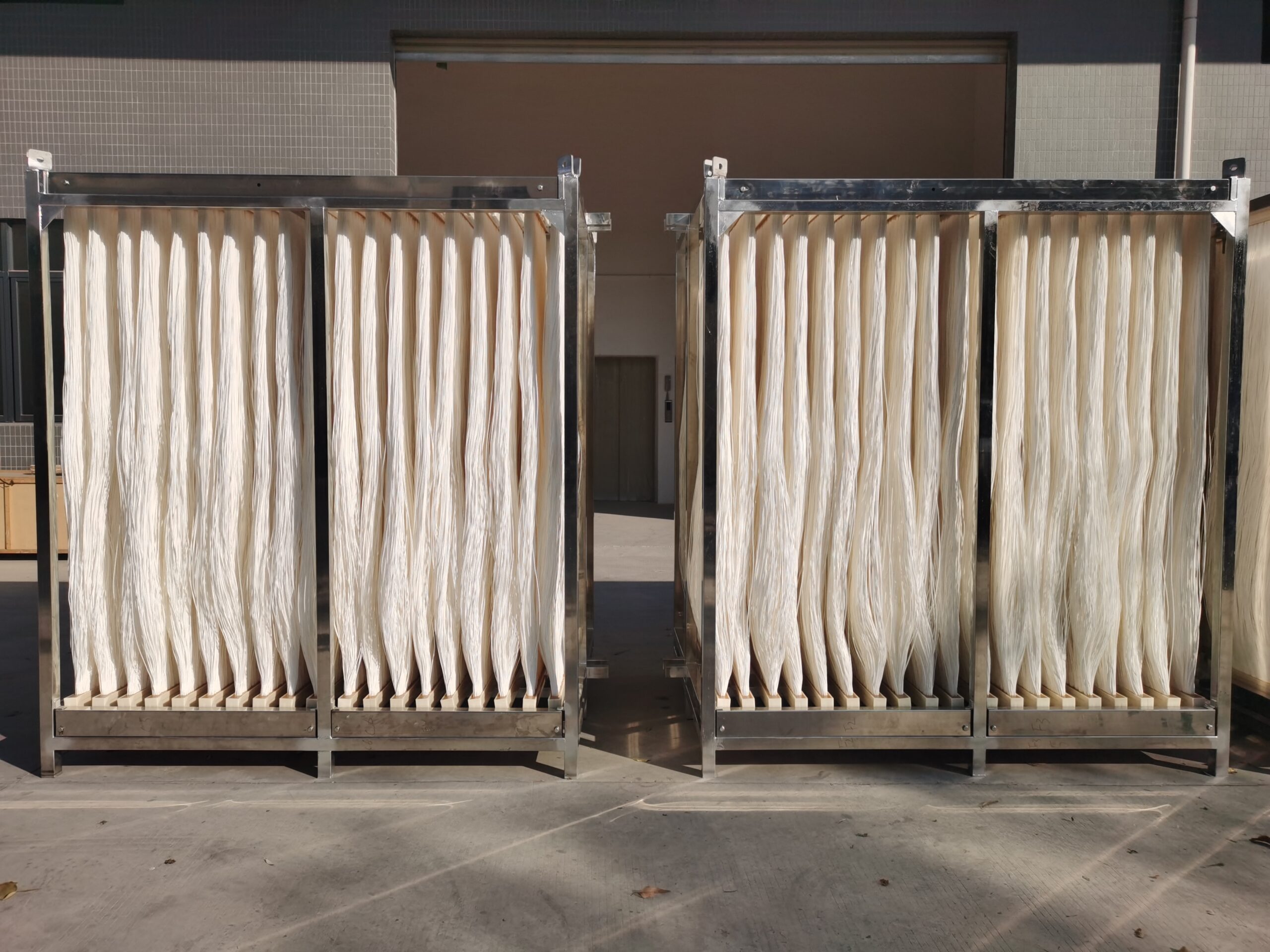 Among the innovative Membrane Bioreactor Design, it highlights the efficacy of the sponge fixed bed MBR, which produces a treated effluent near reuse standard. It offers effective organics removal while reducing membrane fouling.
Technology Relates to MBR or Membrane Bioreactor
Hollow Fiber Membrane Bioreactor
The hollow fiber membrane bioreactor features a fibrous shape and a self-supporting membrane. it's a sort of asymmetric membrane, and its dense layer is often located on the outer surface of the fiber(such as reverse osmosis membrane), or on the inner surface of the fiber (such as microfiltration membrane, nanofiltration membrane, an ultrafiltration membrane). 
For the gas separation membrane, the dense layer could also be located on either the inner surface or the outer surface. 
The hollow fiber tube wall is roofed with micropores, which may remove most bacteria, virus, microbe, particles, colloid, macromolecules organism, etc. and therefore the pore size is expressed by the relative molecular mass of the trapped substance, which may be up to many thousand to many hundred thousand.
Alloy PVDF Gradient Membrane Filter
This MBR Technology relates to the solid type alloy PVDF membranes, especially to an ultra-hydrophilic gradient sponge microstructure PVDF hollow fiber membrane, especially to an ultra-high-strength, super-hydrophilic, ultra-high water flux, and ultra-high pollution resistance alloy PVDF gradient hollow fiber UF filtration membrane.
Ultrafiltration Membrane 
Ultrafiltration membrane plant is ecologically beneficial because it is reliable. It makes sure that water has been treated, and then is reaching plants, fish, and other nature so as to supply them with a healthy environment to measure in. Ultrafiltration membrane plant provides a source for water consumers to use reprocessed water. As contamination only harms the living things ultrafiltration is extremely important to supply safe water to them. It results in a decrease in contamination and therefore the technology of wastewater treatment plants. Reprocessed water is additionally energy efficient. When the water flows, more water is taken out and preserved so as to be conveyed this needs tons of energy. If water is reprocessed on the location it reduces the quantity of energy that's required.
Nanofiltration Membrane 
The nanofiltration membrane features a pore diameter of 1 nm or more, generally 1-2 nm. it's a functional membrane that permits solvent molecules or certain low relative molecular mass solutes or low-priced ions to undergo. it's a special and promising sort of separation membrane. Because the dimensions of its trapped substances are about a nanometer, it's called a Nanofiltration membrane. Its relative molecular mass of intercepted organic matter is about 150-500, and therefore the ability to retain soluble salts is 2- Between 98%, the desalting of the monovalent anion salt solution is less than that of the high-valent anion salt solution. it's wont to remove organic matter and chromaticity of surface water, remove the hardness of groundwater, partially remove dissolved salts, concentrate juice, and separate useful substances in medicines.
PTFE Membrane Distillation
PTFE Membrane distillation (MD) may be a membrane separation process that uses a hydrophobic microporous membrane with the vapor pressure difference on each side of the membrane because of the drive for mass transfer. It is often used for water distilling and desalination to get rid of volatile substances from aqueous solutions. for instance, when aqueous solutions of various temperatures are separated by a hydrophobic microporous membrane, thanks to the hydrophobicity of the membrane, the aqueous solutions on each side cannot undergo the pores of the membrane and enter the opposite side, but thanks to the high water vapor pressure at the interface between the solution on the nice and cozy side and therefore the membrane On the cold side, water vapor will enter the cold side from the nice and cozy side through the pores of the membrane and condense. this is often very almost like the evaporation, mass transfer, and condensation processes in conventional distillation, so it's called the membrane distillation process.
Water Purifier Membrane
Water purifier membrane is one of the foremost natural and advanced ultrafiltration technologies for water treatment. The nominal tiny pore size is 0.001~0.1 μm. The micropores distribute around the wall of the membrane. The entrapping relative molecular mass scale is about several thousand to 10 thousand. The water is due to the surface of the membrane to the within, its outer pressure type. In adverse, it's inside pressure type. The water purifier membrane may be a dynamic process, and therefore the entrapping matter is often drained out following the concentration of water.
Water purifier membrane to clarify, concentrate, and purity the streams with filtration challenges involve suspended solids, bacteria, or high concentrations of macromolecules. These high-tech membranes are widely utilized in a variety of water treatment and wastewater recycling applications.
MBR Waste Water Treatment Plant
MBR has high removal efficiency for pollutants, greater flexibility and practicality, short process, and little footprint! Flexible water treatment. Solve the matter of inauspicious disposal of excess sludge. thanks to the high-efficiency trapping effect of the membrane module, all activated sludge is trapped within the reactor, in order that the sludge concentration within the reactor can reach a high level, up to 40-50g/L, which greatly reduces the biological reaction The sludge load within the device improves the removal efficiency of MBR for organic matter. the typical removal rate of COD in domestic sewage is above 94%, and therefore the average removal rate of BOD is above 96%. Learn more
MBR Sewage Treatment Plant
MBR sewage treatment plant may be a complete MBR set of kits for sewage and wastewater treatment. It separates the water from the biochemical reactor tank. Water can permeate the small pore and activated sludge entrapped within the tank, so it can greatly improve the system's ability to degrade pollutants. 
The water quality from the MBR sewage treatment plant is extremely stable excellent. The filtered water is often reused for non-drinking purposes, like car washing, watering, gardening, cleaning, irrigation, etc. a big advantage of the membrane bioreactor process is that the sludge solids are completely retained within the bioreactor. The membrane's pore size (0.04 or 0.1 µm) ensures that the treated effluent is of very high clarity and significantly reduced pathogen concentration. 
MBR sewage treatment plant provides a substantially clarified and disinfected effluent of high enough quality to be discharged to sensitive receiving bodies or to be reclaimed for applications like urban irrigation, utilities, or toilet flushing. Lastly, the longer solids retention times tend to supply better biotreatment overall. The conditions encourage the event of slower-growing microorganisms, specifically nitrifiers. it's especially effective at the biological removal of ammonia (nitrification).
Package MBR Sewage Treatment Plant
The Package of MBR sewage treatment plant uses surface water or groundwater because the water source, and therefore the water source water passes the coagulant dosing device, the folded plate coagulation reaction chamber, the inclined plate sedimentation chamber, the sludge collection chamber, the sand filter chamber, and therefore the backwashing device. it's characterized by the coagulation, sedimentation, filtration, sludge drainage, and backwashing of conventional water during a square tank, which is suitable for the purification treatment of small and medium-sized water plants. The integrated water purification equipment integrates coagulation, sedimentation, filtration, dosing, and disinfection, and purifies the turbid raw water into clean water, which is like a water purification station with a group of purification treatment functions.
The Package of the MBR sewage treatment plant is fully controlled and operated, which may realize an unattended, ideal, and reliable small water purification station. The equipment has reasonable process parameters, compact structure, good treatment effect, stable and reliable effluent, can effectively remove impurities, suspended solids, algae and microorganisms within the water, and may also remove odor and iron and manganese, which are often Better than national beverage turbidity standards.
It also can run continuously or intermittently, with advanced technology, reliable products, stable quality, good water effect, easy operation, and straightforward grasp by users. it's a reliable device for producing water.
Application MBR Sewage Treatment Plant
Domestic sewage treatment Plant

Municipal sewage treatment Plant

Industrial sewage treatment Plant

Laundry sewage treatment Plant

Slaughter sewage treatment Plant

Plating sewage treatment Plant

Chemical sewage treatment Plant

Food influent treatment Plant

Oil field sewage treatment Plant

Effluent Recycling Plant

Hospital sewage treatment Plant
About Oxymembrane
Oxymembrane is a professional MBR & UF filter membrane manufacturer. we've been specializing in research & development, manufacture, and applications of Ultrafiltration (UF) Membrane hollow fiber technology for water & wastewater. Oxymembrane is a high-tech MBR company who provide package sewage treatment plant a good range of service in design, sales, manufacturing, technology design & guidance, water & wastewater solutions, aftersale services, etc. Base on technology advantages of R&D, Oxymembrane company is being one-uped level within the formula of UF material, production technology, and MBR membrane applications. Know more about Oxymembrane.
What We Have Done
We have owned patents of UF membrane includes Embedded-reinforced PVDF, PVDF, Alloy-PVC, PAN, and PS/PES with different filter precision & structures. we've launched several series products, like Membrane Bio-reactor (MBR) series, standard UF series, and Gravity UF series for various applications. Besides, we will provide design, installation, commissioning for all types of package sewage treatment plants, wastewater treatment plants. and that we have finished many STP/WWTP/WTP in approx. 40 countries everywhere on the planet.
Our applications involved municipal, domestic sewage, and various industrial wastewater for laundry, dyeing, paper, slaughter, food, oil field, pharmaceutical, milk, chemical industries, etc. Our membrane has passed the CE certificate. And our production and operation are designed & run as per standard of ISO9001/ISO14001, which ensures that we offer an unbroken stable & excellent quality &service for you. Contact Us
Thank you for choosing Oxymo Technology!