Description
Ultrafiltration (UF) is a type of membrane filtration in which hydrostatic pressure forces a liquid against a semipermeable membrane. A semipermeable membrane is a thin layer of material capable of separating substances when a driving force is applied across the membrane .It is a low pressure membrane process for water treatment that is designed to remove turbidity causing particles including those comprised of suspended solids, bacteria, colloidal matter and proteins.
Ultrafiltration system for sewage treatment is one membrane filtration process that serves as a barrier to separate harmful bacteria, viruses, and other contaminants from clean water. An ultrafiltration water system forces water through a 0.02 micron membrane. Suspended particles that are too large to pass through the membrane stick to the outer membrane surface. Only fresh water and dissolved minerals pass through.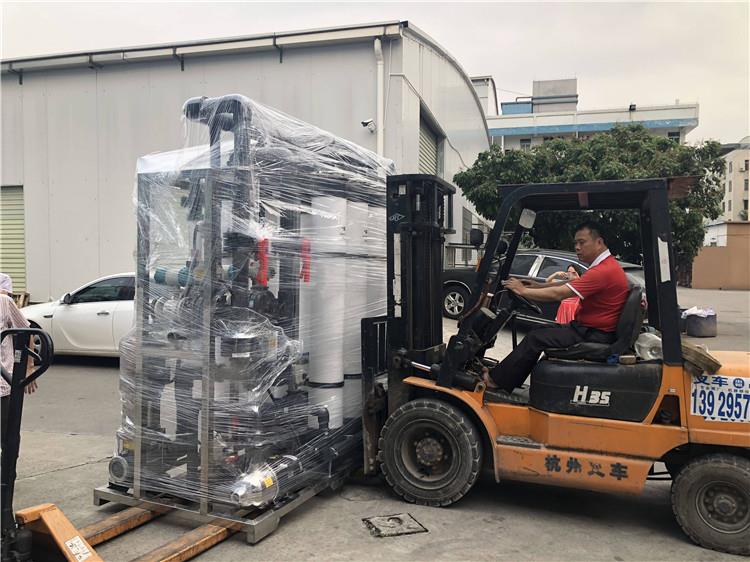 Hollow ultrafiltration membrane modules always encapsulate hollow tows in cylindrical containers with epoxy resin. The cast resin is cured and cut at both ends of the cylindrical container to form a structure such as a tube heat exchanger. Adding a cap to each end of the structure can form an ultrafiltration module. The water inlet and concentrated water inlet of the ultrafiltration module are generally above the caps on the two ends of the module, and the water production port on the cylinder wall is called the radial water production structure, and the cap is called the axial water production structure. Most of the currently popular large and medium-sized components are axial water-producing structures.
Hot Tags: ultrafiltration system for sewage treatment, China, manufacturers, suppliers, factory, customized, made in China