Description
Hollow fiber ultrafiltration membrane characteristics
1. Stainless steel clamp structure, stronger pressure bearing capacity, effectively preventing bursting and water leakage caused by instantaneous high pressure and impact of medium-sized ultrafiltration system.
2. The shell is made of high-toughness UPVC material. The material has good anti-aging, acid and alkali resistance and chemical stability, and is suitable for a wide range of working conditions.
3. Adopt a unique 7-sector wire loading process to make the water in the casing even.
4. Filling 5000 filaments, the effective membrane area of 16 square meters is much higher than the effective membrane area of similar products, so the water flux of single component is larger.
5. The inlet and outlet are all the interface ports of the national standard DN32, and the four loose-knotted end caps are all uniform size specifications, which is convenient for installation and maintenance.
6. The effective area of the membrane is large, the water flux is large, and the pure water flux is 3500 liters, which is much higher than the domestic products of the same specification.
System Process
MODEL
UF-4040
UF-6040
UF-8040
UF-8060
Specification
Membrane Material
PVDF / Reinforced PVDF
Operation Mode
Outside-in
Nominal Pore Size
0.03/0.05um
Inside/Outside Diameter
0.7/1.3mm or 1.2/2.6
Available Membrane Area(sq.m.)
12
32
40
50
Dimension
Ф90*1175
Ф160×1420 mm
Ф200×1475
Ф200*1800
Case Material
UPVC
UPVC
UPVC
UPVC
Encapsulation Material of Bottom
Epoxy resins/polyurethane
Filtering Type
Dead end or cross-flow filtration
Turbidity of Permeate
<=0.2NTU
SDI15 of Permeate
<=2.5
Feed Conditions
Turbidity
<=300NTU
PH
2~10
Pre-filtration
100~300um
Temperature
5~50 Degree Celsius
Typcial Filtrate Flux
30~120L/sq.m.*H,25 Degree Celsius
Max TMP
0.3Mpa
Backwash Conditions
Frequency
Every 20-60mins(According to water quality or result of the pilot testing)
Pressure
<=0.2Mpa
Flux
40-120L/sq.m.*H
Air Scour Conditions
Air Pressure
<=0.2Mpa
Air Flow per Module
4-10 Nm3/H
Chemical Enhanced Backwash
Frequency
Every 12-24H(According to water quality or result of the pilot testing)
Cleaning Solutions
0.1%HCI(More or less duo to water quality)
0.05%NaOH+0.1%NaCIO(More or less duo to water quality)
Clean In Place
Frequency
When TMP exceeds 0.08-0.1Mpa above starting TMP,and can't recover by Backwash,air scour and Chemical enhanced backwash
Cleaning Solutions
2% Oxalic,1-2% Citric or 0.4%HCI
0.1%NaOH+0.2%NaCIO(Active Chlorine)
Application    
Broad range of application for the treatment of water and wastewater from:    
1. Pretreatment for seawater RO or NF desalination
2. Drinking water purification
3. Surface water purification
4. Ground water purification
5. Municipal wastewater/effluent water purification and reuse
6. Industrial wastewater treatment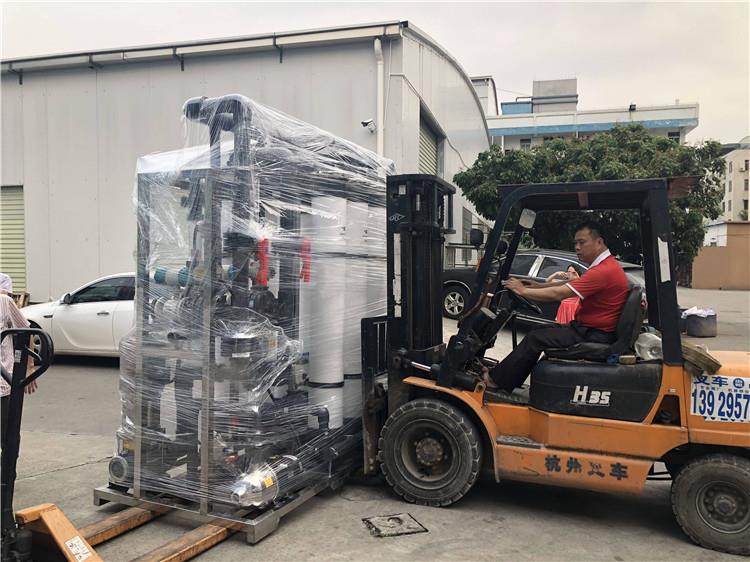 Hot Tags: Hollow Fiber UF Ultra Filtration Membrane, China, manufacturers, suppliers, factory, customized, made in China