Description
Hollow fiber ultrafiltration(UF) water treatment is a most natured and advanced ultrafiltration technologies from hollow fiber filter manufacturers. The nominal poresize is 0.001~0.1 μm. The micropores distribute around the wall of the membrane. The entrapping molecular weight scale is about several thousand to ten thousand. The water flow from the outside of the membrane to the inside, it is outer pressure type.
Ultrafiltration membrane is resistant to chemical erosion and has a wide range of PH adaptation.The ultrafilter has the largest membrane area per unit volume and the lowest investment cost. Please wash it easily.The ultrafiltration process only USES pressure as the power of membrane separation, so the separation device is simple, short process, simple operation, easy to control and maintain.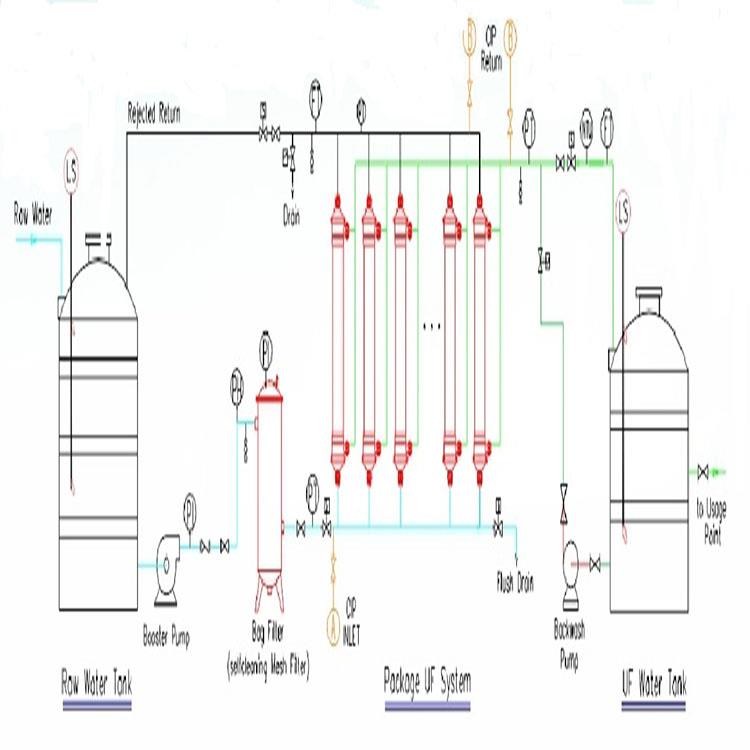 Module data
UF90
UF160
UF200
UF250
Dimensions(mm)
Ф90×1175
Ф160×1420
ф200×1475
ф250×1715
Nominal Area(m2)
6
24
35
60
Recommend Flow(m3/h)
0.2-0.3
0.8-1.2
1.0-1.5
2.0-4.0
Membrane material
PVC/PAN/PVDF/Reinforced PVDF/PES
Diameter of hollow fiber(mm)
1.66/1.0 or 2.4/1.2
Nominal pore size
0.01μm  (0.001~0.1um are optional)
Filter Path
Inside-out(PVC / PAN), Outside-in (PVDF)
Configuration type
Configuration type
Max. Feed pressure (Mpa)
0.3
Recommended TMP (Mpa)
0.02-0.08
UF6060,UF6080,UF8060,UF8080,UF10080 UF water filters are available too.
Ultrafiltration (UF) is used to remove essentially all colloidal particles (0.01 to 1.0 microns) from water and some of the largest dissolved contaminants. The pore size in a UF membrane is mainly responsible for determining the type and size of contaminants removed. In general, membrane pores range in size from 0.005 to 0.1 micron. UF membrane manufacturers classify each UF product as having a specific molecular weight cutoff (MWC), which is a rough measurement of the size of contaminants removed by a given UF membrane. A 100,000 MWC UF membrane means that when water containing a given standard compound with a molecular weight of around 100,000 daltons is fed to the UF unit, nearly all of the compound will not pass through the membrane
Hot Tags: ultrafiltration water treatment, China, manufacturers, suppliers, factory, customized, made in China